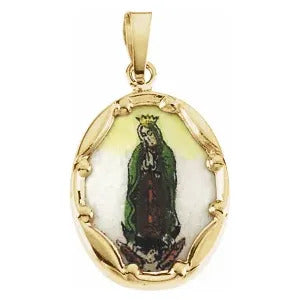 Our Lady of Guadalupe Hand Painted Porcelain in 14K Yellow Gold
$ 11995

$ 119.95

Save $ 80.04
---
---
Our Lady of Guadalupe Hand Painted Porcelain Medal with 14K
Yellow Gold Frame 
The Our Lady of Guadalupe medal in 14K yellow gold combines the beauty of Hand Painted Porcelain with the rich look and feel of 14K yellow gold.  Each porcelain is delicately framed by a highly polished 14K yellow gold frame and includes an 8mm long 14K Yellow Gold tapered bail which will accommodate a nice sized chain.  

The History of the Lady of Guadalupe
In December of 1531, Juan Diego, an Aztec Indian living outside of Mexico City, encountered an apparition of the Virgin Mary.  She appeared to Juan Diego and instructed him to go to the archbishop and ask that a church be constructed in her honor on the very spot where she appeared to him.  Juan Diego did as instructed, but the archbishop was skeptical and asked him for proof.  The Virgin appeared to Juan Diego three more times, insisting on the same, and eventually giving him proof of her existence.  On Her fourth visit to Juan Diego, She told him that She had healed his dying uncle (to whom she also appeared).  She also instructed him to gather flowers on the top of Tepeyak Hill.  When Juan Diego went to Tepeyak Hill, he found beautiful Castilian roses, which were not native to the area, and especially not in the month of December.  Juan Diego gathered the roses in his cloak and took them to the bishop. Upon opening his cloak for the bishop, an image of Mary was emblazoned on the fabric.  A shrine, known as Basilica of Our Lady of Guadalupe, was built on that spot, and Juan Diego's cloak is housed in it.  Her Basilica is the most visited Catholic shrine in the world.
Features of this Medal Include
Image of Our Lady of Guadalupe in Hand Painted Porcelain

Medal measures 17 x 13.5mm (.67 x .53")

Each medal has an 8mm Tapered Bail which adds .31" to the overall length

The generous bail will accommodate larger or small chains

Medal Frame and Tapered bail in 14K Yellow Gold

Made in the USA

#RFJSTR16979
---
We Also Recommend
---