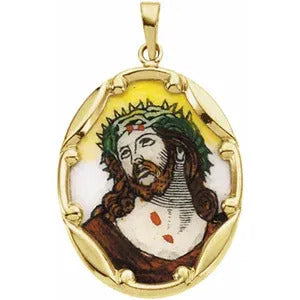 Face of Jesus Ecco Homo Medal in Painted Porcelain
$ 12995

$ 129.95

Save $ 70.04
---
---
Face of Jesus Medal in Painted Porcelain 
Framed in 14K Yellow Gold
Two Sizes Available
Our Face of Jesus Medal features a hand painted image of Jesus wearing the crown of thorns, framed by a 14K Yellow Gold frame and large tapered bail.  The small sized medal is a nice size for children.  The larger medal is a nice size for teens and adults.
History of the Face of Jesus Medal
Ecce Homo/Ecco Homo is a latin term which means "Behold the Man." The term was uttered by Pontius Pilate when he presented Jesus to the crowd including the Pharisees who were present at that time, condemning Jesus to death. When Pontius Pilate shouted Ecce Homo, he was representing Jesus, and the people – the Scribes and Pharisees- were responding Crucify Him! Crucify Him!
Features of the Medal Include
The image of the Face of Jesus in Hand Painted Porcelain
Small Medal measures 13 x 10mm (.51 x .39") + 8mm bail = 21mm (.83" x .39")

Large Medal measures 25 x 19mm (.98 x .77") + 8mm bail = 31mm (1.22" x .77")
Medal Frame and Tapered bail in 14K Yellow Gold
Made in the USA
#RFJSTR16976
---
We Also Recommend
---